3D Printing Architecture Projects In UAE
3D Printing Architecture Projects by ARCH GRAPHIC, a 3D Printing company in UAE, can create amazing colored 3d models by 3D Printing Technology and bring them to life.
3D PRINTING
ARCHITECTURE PROJECTS IN UAE
One of our most popular 3D printing services is the creation of 3D Printing Architecture Projects in scale models. Using 3D printers to create color scale models is a challenge that we relish. Our unique technique, which is based on our 11 years of 3D printing expertise and 22 years of architectural knowledge, has enabled us to position ourselves as the market leader in 3D printed color architectural models in the United Arab Emirates.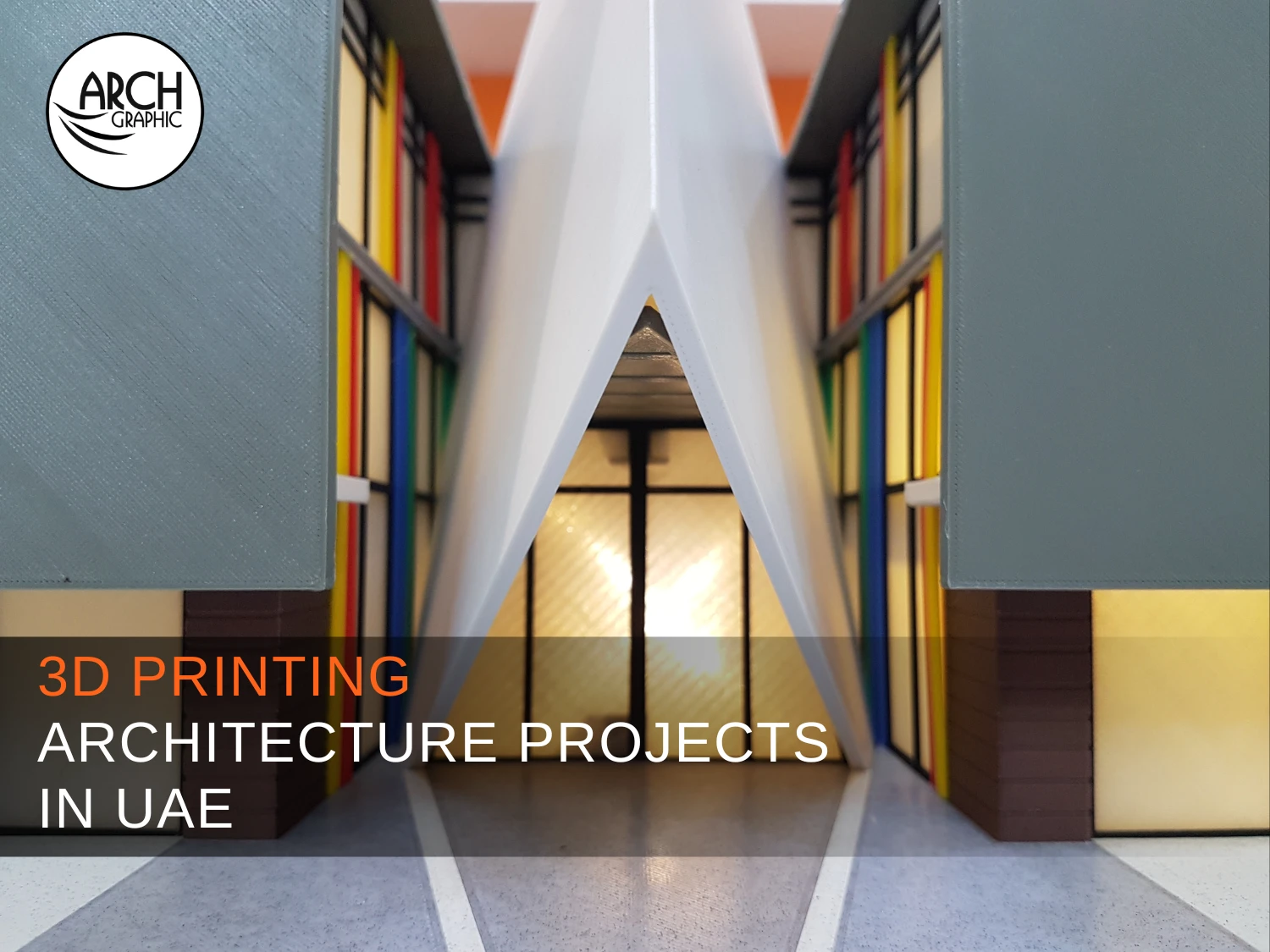 3D Printing
Precise Architecture Projects in UAE
The precision of the work is critical to the success of 3D Printing Architecture Projects, and we are proud to show our customers some of our 3d printing work, which includes fine details and high levels of accuracy, to demonstrate this. This is the key to obtaining a high level of 3d printing architectural projects via the most efficient usage of 3d printers to finish the scale model while maintaining the highest level of quality assurance possible.
We Specialize in 3D Printing
Architecture Projects and Model Making in UAE
We specialize in creating 3D Printing Architecture Projects models for commercial and residential buildings, industrial models for exhibitions, mechanical and heavy engineering models, research and development models, prototype models, and sculptural models.
ARCH GRAPHIC 3D models have assisted many architects and developers in standing out from the increasing competition by physically showcasing their designs and concepts.
We have built long-term working relationships with a wide range of top consultancy and real estate companies in the UAE, ensuring that everything we do is interesting, relevant, and customized to their specific requirements.
Our 3D Printing Architecture Projects and architectural 3D modeling services may be utilized to create large-scale models or a single building. Geographic Information Systems 3D data can be printed to represent real cityscapes, and planned buildings can be included to demonstrate their impact on a city's skyline.
Better 3D Printing Architecture Projects Quality
Our challenge level has been raised to offer our customers with the greatest dependability 3d printed architecture projects and building scale models. Our goal is to create excellent high-detail architecture 3d models in Dubai, Sharjah, and across the United Arab Emirates.
Fast 3D Printing Architecture Projects Service in UAE
ARCH GRAPHIC 3D Print Hub in Sharjah is a 3D printing facility that offers 3D Printing Architecture Projects model creation utilizing quicker and more accurate 3D printers to minimize 3D model production time, which is much faster than the conventional 3D model creation technique.
Durable 3D Material for Architectural Scale Models
ARCH GRAPHIC 3D Printing Architecture Projects Models are more durable than traditional handmade 3D Models, and simpler to clean than foam or cardboard 3D Models. Because of the 3D Printing material's enhanced sturdiness and endurance, they are also simpler to transport from your workplace to an exhibition or fair zone.
What 3D Printing Architecture Projects scale should we use?
ARCH GRAPHIC 3d Modeling in UAE produces 3D Printing Architecture Projects in a variety of scales, although most of the architectural models are scaled at 1:50, 1:75, 1:100, 1:120, 1:150, 1:200, 1:250, 1:300, and 1:500. 1:1000 and 1:750.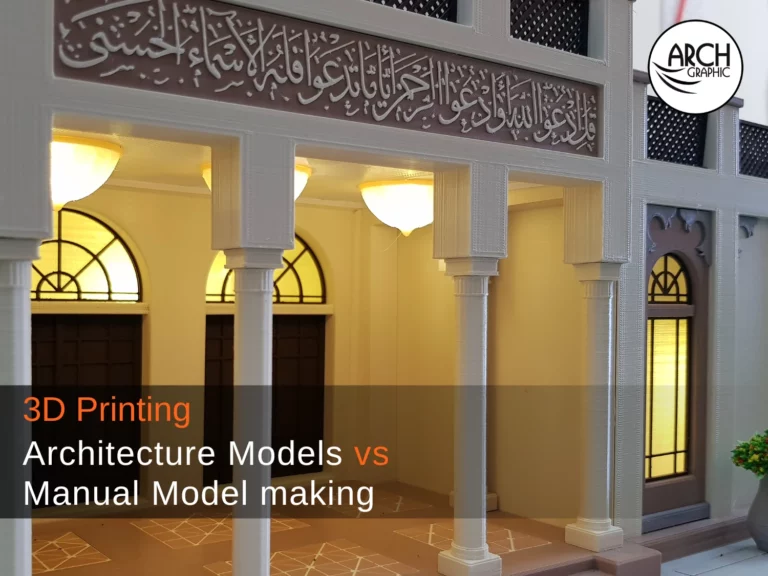 3D PRINTING
Architecture Models vs manual Model making
The precision and fine details are not the only concerns; as we all know, handmade models are prone to errors; but, due to 3D software and 3D printing technology, there are no mistakes in 3D Printing Architecture Projects models. ARCH GRAPHIC 3D Model manufacturing business in UAE offers 3D Printed scale miniature models based on 3D models produced using 3D software and turning them into printable colored models using our CAD software, thus minimizing the number of faults and errors to a minimum level.
3D Printing Architecture Projects in UAE
ARCH GRAPHIC 3D Printing is proud to present a groundbreaking 3D printed villa in Sharjah, UAE. Witness architectural innovation at its finest with our 3D printed villa. Comprising three stunning floors, this architectural marvel seamlessly integrates advanced design principles with unparalleled craftsmanship.
Model size is: (120 x 85 X 45 cm)
3D Printing Villa In UAE
Surrounding the villa, experience a meticulously designed landscape that creates a picturesque setting. This landscape design is a testament to our commitment to precision and creativity, a hallmark of Arch Graphic 3D Printing's architectural 3D printing projects. A beautiful swimming pool complements the villa's contemporary aesthetics, offering the perfect blend of form and function.
A traditional 3D Design style with harmonious colors in high precision and fine-tuning details that 3D printing technology can readily accomplish with a high-quality outcome is represented by our 3D Printed Mosque Model, which is one of our challenge 3D Printing Projects in UAE.
Model size is: (85 x 85 X 70 cm)
3D Printing Mosque Model
Following the success of the previous two revisions of traditional mosque design, the 3D Printing Architecture Projects of 3D mosque was presented to the Abu Dhabi World Heritage Authority (AWKAF) to be built in each of the UAE's cities, In addition, there is a 3D Mosque Color Model that is 3D printed on a platform with an 85×85 cm dimension, as well as 3D Printed Minaret Models that are 70 cm tall.
We 3D printed the magnificent Mosque Design and the tiny traditional elements and fine details, such as the Arabic calligraphy written on the mosque wall, using our most advanced 3D printing technique for 3D printing miniatures and small models in the United Arab Emirates.
3D Printing
Classic Villa Model
3D Printing Architecture Projects in a scale model of your villa in the UAE is a great way to visualize it before you build it. ARCH GRAPHIC, a 3D Printing Service in Sharjah, provides 3D Printing villas and Houses at an affordable price using the best 3D printing technology in the United Arab Emirates, for a Classic design house.
Model size is: (65 x 50 X 40 cm)
3D Printing Classic Villa Model
A Classic 3D Printed Villa model size is 65×50 cm and 40 cm heights. 3D Scale models for Classic Villa designs were created by a consultant company in Sharjah, and ARCH GRAPHIC 3d printed the models using FDM 3d printers and PLA material to print high-quality 3d printed houses in UAE.
3D printing is a method of producing three-dimensional objects. A scale model of a villa may be used to demonstrate to a customer how the villa will appear before construction starts, as well as for consulting, real estate exhibits, or fairs as a showcase, or marketing reasons. 3D printing models are becoming more popular in the UAE, especially for architectural scale models.
3D Printing
Modern Villa Model
The dimensions of a 3D Printing Architecture Projects scale model of a modern villa are 75×75 cm and 39 cm in height. The contemporary home designs were created by a Sharjah-based consulting company, and ARCH GRAPHIC 3d printed the models using 3d Printers, which provide more detail than other techniques of model making provide.
Model size is: (75 x 75 X 39 cm)
3D Printing Architecture Projects of a hangar scale model for a falcon private jet to be used for airplane repair and maintenance. ARCH GRAPHIC followed the 3d drawing that was provided by the client and converted it to 3d printable files that could be printed on FDM 3d printers with precise 3d printing details for each and every part in the 3d model.
Model size is: (97 x 85 X 26 cm)
3D Printing Hanger Model
ARCH GRAPHIC has years of knowledge 3d printing complex models, such as the challenge of finding out how to build the frame truss structure in such a way that it is simple to 3d print while still being strong enough to support the roof.
The 3d printing scale model for the hangar was built on a platform with dimensions of 97×85 cm and a maximum height of 26 cm for the 3d models. The model was enhanced with an LED lighting system to make it more reliable and to give it a high-quality finish that showed each detail in the project as if it were real.
3D Printing
Desert Mall Model
Another 3D Printing Architecture project is the modern design for Desert Mall by MIDAD Consultants with a concrete-faced finish. ARCH GRAPHIC successfully submitted the model using amazing PETG material that is closer to real cement color and texture and has a high stiffness to give the 3d model more rigidity with a nice finish using the best 3D Printers in UAE.
Model size is: (120 x 45 X 20 cm)
3D Printing Desert Mall Model
Three-dimensional printing Desert Mall Scale model printed with a base size of 120×45 and a height of 20 cm, the models are supplied with an interior safe led light system that gives the 3d models a more realistic appearance. A complicated 3d printed model is made up of many pieces that are put together after being 3d printed on precise 3d printers in UAE.
3D Printing technology has improved many aspects of our lives, and using it for 3D printing architecture models is a particularly effective application. A desert mall complex model, for example, presents a number of challenges in the 3D printing process and assembly, but this is not a problem for us because we are ARCH GRAPHIC, a specialized model maker in Dubai, Sharjah, and throughout the UAE who uses 3D Printers to create accurate miniature models for a variety of uses.
3D Printing
Burj Khalifa Model
The BURJ KHALIF is a landmark in Dubai and across the world, and this is an excellent method to demonstrate our 3D printing of iconic structures in the United Arab Emirates. Even though it was a challenge to 3D print the BURJ KHALIF in the 3D model, which reached more than two meters in height, ARCH GRAPHIC, a 3D Printing Service company in the United Arab Emirates, believed that nothing was impossible when it came to 3D printing models, especially in the architecture field.
Model size is: (60 x 60 X 205 cm)
3D Printing Burj Khalifa Model
The platform size of the 3d printed model of the Burj Dubai (Burj Khalifa) is 60×60 cm and the maximum height is 205 cm, which allowed us to print it in several parts and manually glue them together. This was made possible by 3d modeling software, which provided us with more precise and accurate allowed us to fit the 3d printed parts excellently without any risk or mistakes.
3D Printing Burj Khalifa from ARCH GRAPHIC 3d shop in UAE is just the beginning of our efforts to 3d print landmarks and iconic buildings in the UAE. We believe that some of our clients would prefer to have small 3d scale models of famous buildings, so we have a great section in our online 3d store that contains more 3d Landmarks models in the UAE, and we promise to add more iconic 3d models throughout the UAE in the near future.
3D Printing
Desert Rose Villa Model
3D Printing scale model for a house built in the desert, called desert rose, is a modern villa with a wide glassed design façade designed in a contemporary modern style, the 3d print job was sent to us for fast 3d printing scale models, and ARCH GRAPHIC completed the model efficiently and precisely using accurate 3d printers in the UAE to give the model the best 3d print quality and reality vision.
Model size is: (44 x 38 X 28 cm)
3D Printing Desert Rose Villa Model
The 3D Printed model for a desert house built on a platform 44×38 cm in size, ARCH GRAPHIC can 3D print PLA in over 90 colors, therefore the customer wanted to create the impression of a desert shape in 3d modeling and the color to match the color of sand.
The 3D Print of the Desert House scale model is created by using FDM 3D Printers to reach the 28 cm height, the 3d printed miniature models are a group of multi 3d parts assembled together, and at the end, we have 3d models exactly as the design and 3d drawing using 3d printers method which gives us more accuracy than other methods of model making in UAE.
3D Printing
Country House Model
3d printing scale model of a country house built in Denmark, the model is a combination of interior and exterior details and features in one, this is one of our best 3d presentations of mixing the interior and exterior miniature in one standalone scale mode, ARCH GRAPHIC is a 3d printing company in UAE providing scaled models for architecture industries through using the fastest 3d printing in Dubai, Sharjah and all over UAE.
Model size is: (97 x 85 X 26 cm)
3D Printing Country House Model
One of the best features of this mode is the openable doors, we make the 3d drawing and generate 3d printed files to be printed in many parts and to be assembled manually, and we keep in our mind to make the model capable of the door openable with high-quality 3d printing details for each part of the model in size 97×85 cm and 26 cm total height.
The country house is being built in the middle of a farm, and the designer wants to show the client how it will look before the first brick is laid on the site. Using 3d printers to create scale models is the best way to achieve the perfect details for model making, by providing accurate details and a faster model-making process than hand model making.