3D Printing Interior Projects In UAE
3D Printing Interior Projects in UAE by ARCH GRAPHIC 3D Printing service help you create amazing designs, which means you only have to go to one place, saving your time and money.
3D PRINTING
INTERIOR PROJECTS IN UAE
The creativity limits are raised by ARCH GRAPHIC using 3d printers. Thanks to the 3d software which opened the imagination to create amazing 3d details for 3d printing interior projects in UAE, Our accurate 3d printing quality and affordable pricing enable us to provide 3d printed interior scale models to companies and individuals such as interior university students in the UAE.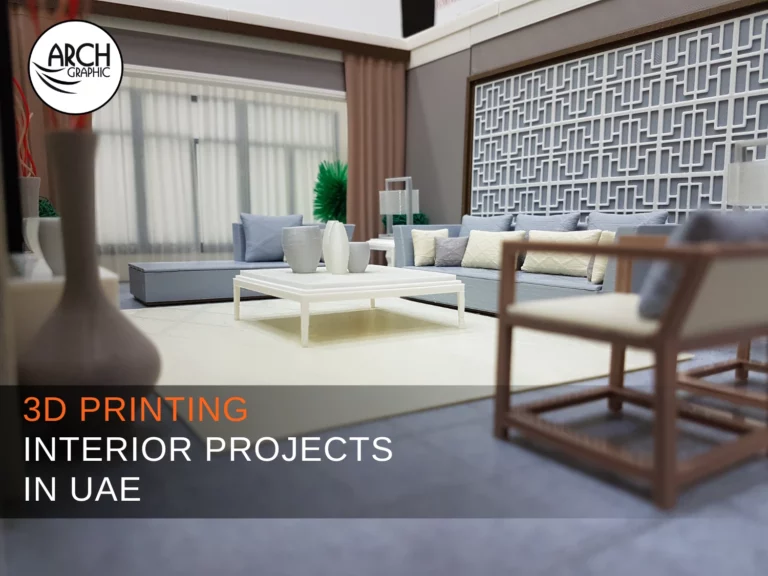 3D Printing
Precise Interior Projects in UAE
ARCH GRAPHIC has specialized in providing 3D printing interior Projects services in Sharjah since we are using 3D printers that are considered to be the most reliable in the UAE. This allows us to offer better 3D printing services in the UAE by working together to fully utilize our expertise in 3D printing technology and our experience in 3D design applications, Please submit your 3d models through our UPLOAD Page or CONTACT US for more information.
High Details & Durability
3D Printing Interior Projects and Model Making in UAE
Without a doubt, the most essential consideration while developing 3d interior models is quality. Additionally, we know those 3d printers are capable of producing complex 3d models. Not like the other traditional techniques of building the model. In a conclusion, ARCH GRAPHIC offers the most reliable 3D Printing Interior Projects in the UAE, using a 3d printer hub in Sharjah, enabling us to create scale miniature models with highly accurate features.
We took it upon ourselves to accept the challenge of creating 3D Printing Interior Projects in the United Arab Emirates, which has allowed us to become the leader in interior 3d printing in the United Arab Emirates. We published our ONLINE STORE in February 2020, and we have reached customers all over the UAE and the Gulf Cooperation Council by providing CUSTOMIZING SCALE MODELS for interior models, 3D GIFTS, 3D UAE, and much more.
The difficulties of creating small features via CNC or laser cutting make hand-crafted models constrained in terms of the level of detail. Nevertheless, 3D printers are capable of producing objects with small, complex details using FDM or SLA technology, such as little furniture or complex designs.
3D printers use a variety of plastics and polymers to create stunning 3D printed objects, and the majority of these materials are stiff. Additionally, this gives us greater stiffness and stability when you move the model from the office to the interior exhibition. Overall, all 3d printing materials are far stronger than the cartons or papers that were used to build the interior models using laser cutting methods.
Why is 3D printing technology superior to other methods of model creation?
A good question; while laser cutting for interior model creation, acrylic models, and CNC wood cutting for miniature projects are all incredible, they all have limitations; however, 3d printing technology is the next generation of interior modeling, as 3d printers have no limitations when it comes to creating complex and precise 3D Printing Interior Projects.
As a result, 3D printing interior projects in DUBAI, SHARJAH, and across the UAE have become a more efficient method of producing small-size models with the highest quality than prior conventional model manufacturing methods. Not only that, but our interior 3d project services are more affordable than others. Additionally, we cannot overlook the time savings associated with the use of rapid 3d printers for scale model creation in the UAE when compared to other methods of model creation.
Why 3D Printing Interior Scale Models in UAE Help Designers?
ARCH GRAPHIC is a 3d print shop in the United Arab Emirates that is ready to create professional interior models for companies as well as individuals such as students in architecture and interior design universities by offering the most competitive 3d Printing prices in Dubai, Sharjah, and throughout the UAE in many scale models ranging from 1:5, 1:10, and 1:20…
We at ARCH GRAPHIC make it a point to provide the finest interior size models possible via the use of 3d printers. We have over 22 years of expertise in the architectural design field and 11 years of 3d printing experience. And we are prepared to assist our customers in converting 2d and 3d drawings to actual interior models, as well as any other concept or idea that you want to 3d print. Then please contact us.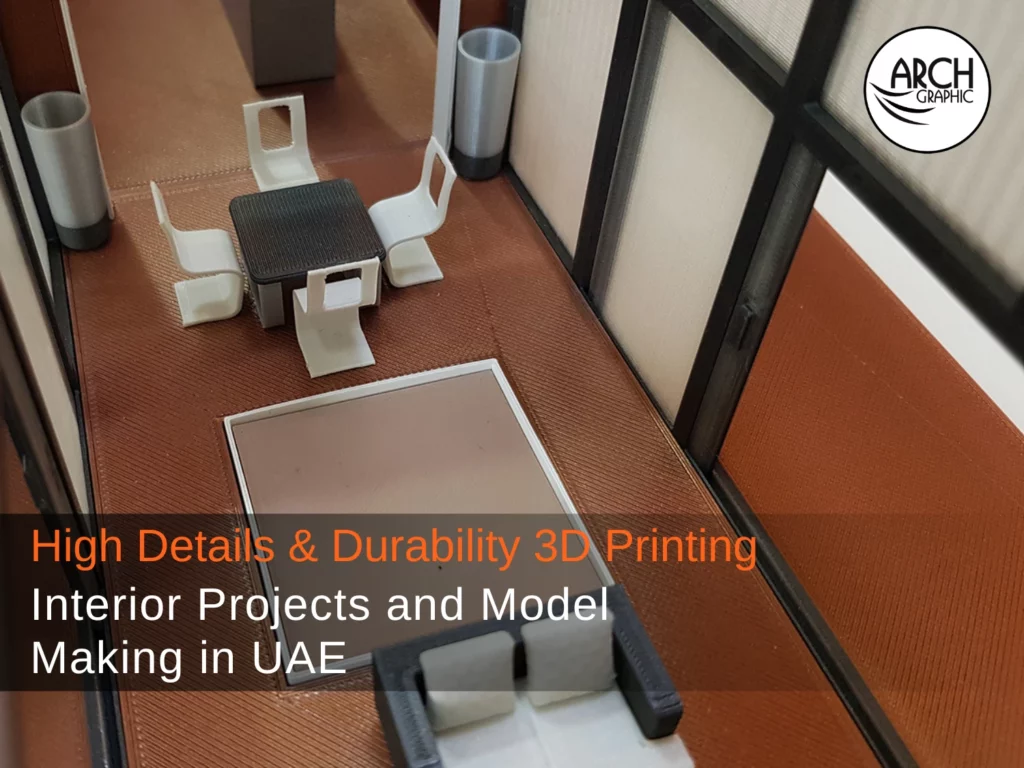 Why 3D Printing Interior Projects with US?
3D PRINTING INTERIOR PROJECTS IN UAE.
3D PRINTING INTERIOR COMPANY IN UAE.
3D PRINT INTERIOR STUDENT MODELS.
PROFESSIONAL 3D PRINTING INTERIOR COMPANY IN DUBAI.
BEST PRICE 3D PRINT INTERIOR MODELS.

3D Printing Interior Projects in UAE
3D Printing
Living Room Interior Model
ARCH GRAPHIC, a 3D printing service in Sharjah, is proud to show a nice 3D interior project that it 3D printed to demonstrate the high-quality 3D printing that it can achieve using the best 3D accurate 3D printers in UAE. 3D printing an interior scale model living room requires a great deal of creativity when printing small tiny details that are difficult to achieve with other model-making methods.
3D Printing Living Room Interior Model
The 3D-printed living room measures 90x45x15 cm and is divided into two zones, one for family living and one for dining. All models in this 3d project were created using 3d printers in the UAE, including the sofas, dining tables, chairs, curtains, and television. Some of the models are also available for purchase online for use in interior design projects.
The living room scale models are completely 3d printed, from the walls and partition walls to the floor and tiles. The amazing details for the entire model are the result of the advantage of using PLA 3d printing material, which provides us with the best quality 3d printing model finishing, according to ARCH GRAPHIC, a 3d printing company for model making in Sharjah.
3D Printing
Country House Interior Model
Another view of the 3d printed country house scale model, which was 3d printed in miniature scale models using an accurate 3d printer in the United Arab Emirates to be an interior and exterior model, thanks to the 3d modeling technology, which enabled the removal of the ceiling and roof and the creation of a vision for the entire interior details of the country house built in Denmark.
3D Printing Country House Interior Model
The interior country house scale model has dimensions of 73x24x13 with the ability to make the doors openable and the cabinet slide movable using fine-tuned details through the most precise 3d printers in Sharjah after converting the 2d drawing to a 3d model in order to be enabled to 3D print by FDM 3D Printing methods after converting the 2d drawing to 3d model in order to be enabled to 3d print by FDM 3D Printing methods.
ARCH GRAPHIC is a 3D print models company in the UAE that uses 3d printers, which are a more efficient and accurate tool for making models when compared to other model-making methods, especially for highly detailed interior models like a country house because the furniture has a lot of tiny parts as well as the walls groves to print following the façade details, so 3d printing technology will be the best choice.
3D Printing
Bedroom Interior Model
ARCH GRAPHIC used FDM 3d printers to produce a scale model of a classic bedroom. We accept the race to 3d print fantastic tiny little 3d models starting from table lamps and wall lighting that use LED lighting systems to that highly detailed classic bed 3d model because the scale model contains several elements that make it tough to produce 3d printers.
3D Printing Bedroom Interior Model
Detailed 3D Printed Classic Bedroom in Scale 1:25, with dimensions of 35x25x15 cm, completely 3d printed from PLA 3D printing material and scale furniture set up piece by piece manually; certain furniture models are available in our online 3D Store for others to use in their Interior 3D projects.
3D Printed Classic Bedroom contains a range of high-resolution 3D creative works of classic furniture as well as small details like coffee table accessories and drawer storage. ARCH GRAPHIC promises to create the best 3D Printing models for companies and interior university student projects throughout the UAE.